Rocky Mountain Equipment Aims High with 5 Year Growth Plan; U.S. Expansion a Strong Possibility
Rocky Mountain Equipment (RME) calls itself "Canada's largest agriculture equipment dealer and the largest Case IH dealer in North America." It considers itself a "consolidator" of agriculture equipment dealerships, primarily focused around the CNH Industrial's agricultural brands.
At its investors meeting at the end of May, the dealer group laid out a 5 year plan to grow the business by $500 million. Its expansion will include extending its reach throughout Canada's Prairie Provinces and could even cross their southern borders into the U.S.
Listed under the symbol RME on the Toronto Stock Exchange, the dealership group is one of only three farm equipment retailers that are publicly traded. Since its IPO in 2007, RME has made nearly 20 acquisitions of other dealers, all in Canada.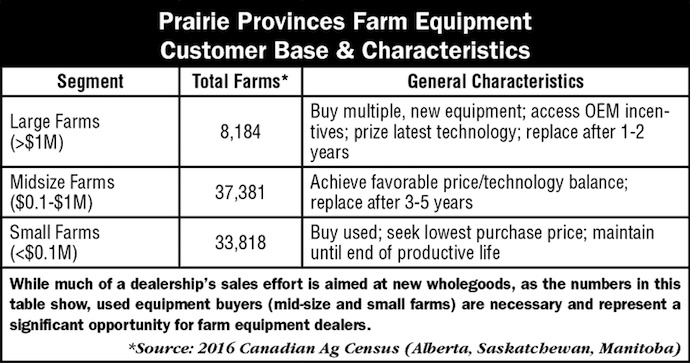 Right Sizing the Business
Like most of the ag equipment industry, the last few years were challenging for RME. Revenues peaked in 2013 at just over C$1 billion and bottomed out in 2016 at C$930 million. Last year saw a 3% increase in overall revenues to $959 million. Year-over-year gross profits were up 5% last year, to C$139.4 million. Sales in the first quarter of 2018 saw further improvement, reaching nearly $220 million, a 4.6% improvement compared to sales during the first 3 months of 2017.
Between April 2015 and December 2016, RME "right sized" its operations and reduced its footprint by 20% with the closure of 8 locations, which dropped its total number of stores to 34. While several of the locations were in areas already being served by other RME dealerships, nonetheless, Garrett Ganden, president and CEO of RME, called the decision to close the stores "heart wrenching."
In his analysis of RME's first quarter 2018 results, Ben Cherniavsky told investors, "We acknowledge the highly competitive nature of the ag dealership business and the relatively incremental gains that RME is making in a mature market, but we believe that 'slow and steady' will eventually win the race. Specifically, following several years of internal optimization that was focused on streamlining past acquisi­tions, reducing debt and eliminating costs, we believe the company is now well positioned to pursue greener pas­tures through measured growth and consolidation. Looking ahead, management believes consolidated revenue will grow in the range of 5-10% in 2018."
It would appear that RME's top brass feels the same way. On July 3, the dealership group announced its first acquisition in recent years with the definitive agreement to acquire the two New Holland locations of John Bob Farm Equipment, both located in Saskatchewan. Ganden called the acquisition "a perfect fit with our growth plan."
RME's 5 Year Plan
According to its earlier announce­ment, RME expects to grow revenues from $959 million in 2017 to at least $1.5 billion in 2023. Its far-reaching growth plan includes a combination of revenue sources including:
$200 million in organic growth through RME's present geographic footprint;
$200 million in acquired top line revenue in Canada and the U.S.; and
$100 million in revenue synergies on assets that are acquired through this plan.
But RME's growth strategy started with its right-sizing efforts. In addition to consolidating dealer locations, the company also focused on internal business operations. "Our management team determined early on that our SG&A needed to be less than 10% of sales." Prior to that, he says the business had experienced "creep," expenses continued to grow little by little until they were between 11-12%. With sales of about a billion dollars, a 1% savings represented a $10 million reduction in SG&A.
In addition to initiating strict business disciplines and restructuring how the stores are managed, the major part of RME's growth will depend on increasing revenues. But while the sale of farm machinery has seen some pick up in the past few months, a major turnaround isn't anticipated in the near-term. As a result, in addition to the dealership group's growth through acquisition, Ganden says they'll focus on getting more of what's out there.
"With the locations that we have today, there is opportunity for us to touch more customers, to serve more customers, to make sure that we're their partner of choice. And we have some that are underperforming what we think they should do and we know they're capable of doing," he says. "We had to challenge them to let people know what's expected and we've told the marketplace what we're doing. So it's really important for us to drive it. And when you set goals like that, it's amazing what a uni­fied team can do."
Those efforts will include all of the dealership's revenue streams. "We're not just looking at new and used equip­ment sales," says Ganden. "We're pushing to increase parts and service sales, and we want to make sure that the tech­nology portion is a growing part of the business because it really shows the communities and the customers that we can partner with them for the long term."
RME also expects $100 million of its growth plan to come from "synergies on assets." RME's history of acquisitions has demonstrated that the changes they make with the stores they've acquired result in increased sales. "By giving them access to more wholegoods, for example, they are able to meet more of their customer's needs. It gives them greater access to a larger parts inventory, again to meet more of their customers' needs. It's the revenue growth that happens post acquisition from the synergies that we're able to put into place for the new stores."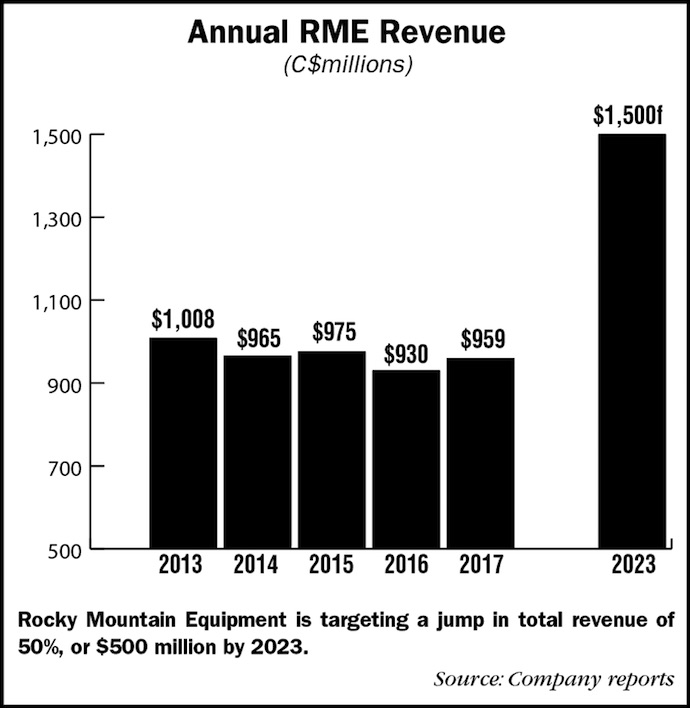 Moving South?
While some large dealership groups have ventured far from home — to places like Bulgaria, Romania, Russia, Germany, Australia and New Zealand — few, if any, have crossed North American borders. But RME is willing to blaze this trail at the right time.
According to the company, RME's Canadian acquisition efforts will be focused in Saskatchewan, acquisitions of Case New Holland-branded dealers in Alberta and Manitoba should also be expected. U.S. acquisitions will be focused in the Western regions of the country in areas with healthy crop receipts, a similar crop and equipment profile to the Canadian Prairies, and a healthy balance between crop and livestock production to balance exposure to any one type of customer.
RME calls a U.S. acquisition "transformational." It says it would help RME mitigate a number of risks including currency, crop, weather, political, transportation and tariffs through risk diversification. However, to give RME further growth opportunities in the U.S. market, it would need to find, retain or assemble a strong management team and back-office to serve as a platform for future growth. As a result, the first U.S. acquisition will be a scope acquisition and RME does not expect to achieve the same synergies expected of subsequent acquisitions.
Before entering the U.S., RME says a list of criteria would need to be met including:
Approval from CNH;
A well-run operation with a strong management team; and
A large enough revenue base (approx. USD $100 million) to serve as a growth platform in the U.S.
In addition to these criteria, Ganden says RME would need to be sure it is able to meet the needs of U.S. farmers. "We want to make sure that we go to an area that we're able to provide the same quality of service that we provide in Alberta, Saskatchewan and Manitoba. We want to make sure that we are the difference maker for the customers, for the community, for the brands that we will represent.
"And it is a heck of a challenge to figure out where is the right entry point, when is the right time. We think that the opportunity is great — to spread our geographical risk, that we have even more scale, which is going to enable us to take care of the customers better, take care of the communities better, and obviously support the OEMs.
"The mistakes that Canadian dealers have made in the past is they tried to do too much too fast," says Ganden. "We want to make sure that we have the right starting point. We want to make sure that we work closely with our OEM partners to make sure that it is a win-win for everybody."
Check out our latest video
Related Industry Blogs
Exploring our target industries
At Davalyn, our tenured team of niche-focused talent acquisition experts takes on the hiring challenges of a diverse and growing set of industries. Make our perspectives your most powerful recruitment and retention resource.